Help is only a phone call away
We believe individuals possess a wellspring of strengths, inner resources, and a propensity toward healing. Pathology, addictions, and relational turmoil are often symptoms of the inner life gone awry. We are able to access these strengths with care and individualized therapy strategies. Be encouraged that true transformation is from the Good Side Out. Happiness and peace of mind is a phone call away.

Our Mission
Good Side Out exists to provide an effective, personalized, and multi-demensional approach to mental health. We believe while we cannot change the past, we can work together to resolve challenges, provide healing and improve the present. By applying complementary therapy approaches and techniques, we can unearth long-standing behavior patterns and negative perceptions that impede individual success and quality of life.

Boost your self-esteem and improve your quality of life . . .
Through brief solution-focused, client-centered, strength based therapy for men and women. We use an . Experience and compassion working with various cultures and beliefs, including but not exclusively those who prefer a primarily faith-based or spiritual approach to dealing with life's challenges.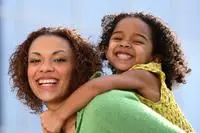 We will help you overcome sadness, fear, relationship ambivalence, and other issues to help you uncover your true potential so you can lead a life that is worth celebrating. We provide a variety of approaches to unearth your strenghts and passion, and challenge old self destrucitive patterns holding you back from experiencing a more fulfilling meaningful life.
If you are looking for extra support and guidance through a challenging situation or you are just ready to move in a new direction in your life, consider individualized private sessions. I look forward to working with you to achieve your goals.
How do I know when to seek counseling?
"Good indicators of when you should seek counseling are when you're having difficulties at work, your ability to concentrate is diminished or when your level of pain becomes uncomfortable," says Dr. Gail Robinson, past president of the American Counseling Association. "However, you don't want to wait until the pain becomes unbearable or you're at the end of your rope." See page titled Is Therapy for Me?
The sooner you get help, the better your chances for a successful recovery. People seek help for issues from anxiety, depression, and other mental and emotional problems and disorders. They also get counseling for the following challenges:

Addictions, including drugs/alcohol
Bariatric Pre-Surgical Assessments
Career change or job stress
Difficulties related to childhood distress
Domestic violence (abuse against men & women)
Eating disorders and weight management
Family and relationship issues, toxic bonds
Life transitions
Loss or death of a loved one
Trauma/ PTSD
Call or email for your individual consultation today.
Deborah E. Stamm, MS, LPC, CDC #596
Office: 907-677-7636
email: [email protected]